Testimonials & Test results
They have all used DolphinEyes™
shampoo eye shield
to protect their eyes against: Water, soap, head lice treatment or hair clippings… Read what they say 🙂 
Testimonials by children
"It is fun when the water runs down the head because then it drums on the eyes."
"When I have DolphinEyes™ on, I can wash my own hair!"
"I don't get soap in the eyes, or water either, it's fun!"
"I'm wishing for DolphinEyes™ for my birthday!"
"You start by closing your eyes because you think you'll get water in them, and then you don't!"
"The yellow is pretty, and I can see right through it!"
"You can stand right underneath the shower when you have DolphinEyes™ on!"
2019-08-17

"DolphinEyes™ has turned the day's low-point to a fun experience for my 3-year old daughter."

2019-07-06 

"It's the first time in 4 long years that we've had shampooing without tears. And it's the first time in months that we have washed her hair with shampoo."
2019-01-27 

"My daughter was afraid it would hurt to take the bath visor off, kind of like a band-aid, but it didn't hurt at all. I wish band-aids could all be like DolphinEyes™!
2018-10-12 

"We have always used a cloth, this is MUCH better."
2017-03-17

"My son is afraid of water. DolphinEyes™ turns shampooing into a fun game."
2017-01-31 

"Lice… Again… Sophie gets frantic just hearing the word lice. She knows what it means… But DolphinEyes™ has changed that – THANK YOU. She feels safe now knowing that she can't get any lice in the eyes or shampoo – and as DolphinEyes™ only touches the forehead, I get full access to all of her hair and all the lice…"
2018-02-02

"My daughter holds her hair away from her forehead making DolphinEyes™ super easy to put on."
 2017-05-04 

"DolphinEyes™ is the new super-cool bathing outfit if you ask my son!"
If you want to share a nice or fun experience using DolphinEyes™ shampoo eye shield please write to us.
9 out of 10 children loves to have their hair washed with DolphinEyes™ shampoo eye shield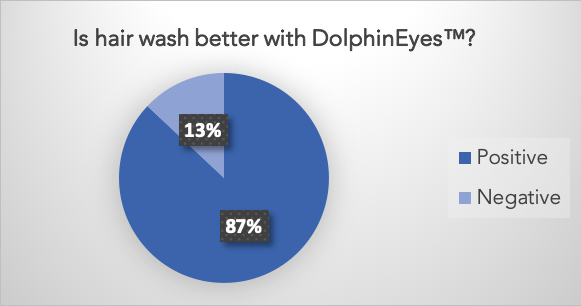 97 % of parents finds hair wash much easier with DolphinEyes™ shampoo eye shield
97 % of parents feels that DolphinEyes™ has turned hair wash into a nice experience
95% of parents wants to buy DolphinEyes™ after having participated in the test